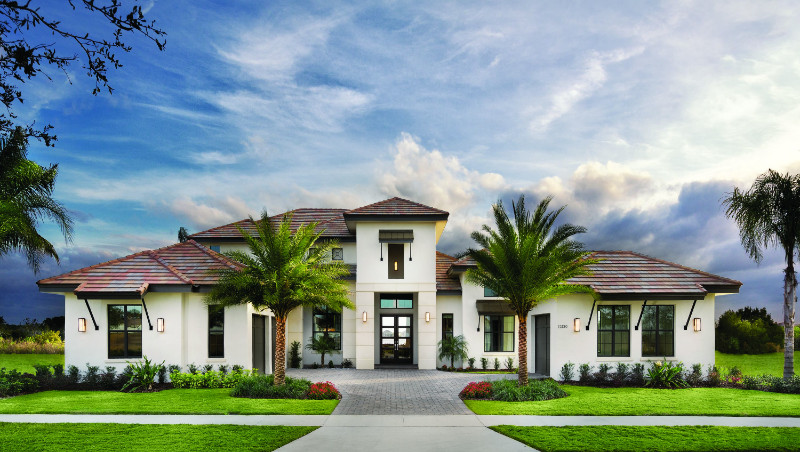 We have created an on-line Home Listing Presentation for you to view. It has come to our attention that sitting for a listing presentation can be a challenging task these days. Delivering a listing presentation on-line will eliminating the hassle of wasting time and choosing between several agents, by giving you the bottom line upfront.Your first step in selling your home is to answer YES to all four of these questions.
Are you 100% ready and decided to sell your home?
Are you 100% ready to price your home competitively to allow it to sell?
Are you 100% willing to prepare the house and yourself for showings and keep it that way during the marketing process?
Are you willing to make the house accessible by having a lock-box installed to allow agents access to show prospective buyers your home at reasonable times?
Click to Contact
Look Below for your On-line Listing Presentation
Selecting a Realtor ® is one of the most important decisions of your life, both emotionally and financially. The Selection process is just as important as selecting a doctor, dentist, or attorney. Your Realtor is responsible for keeping your best interests in mind at all times, advising you and counseling you every step of the way.
First and foremost your Realtor ® or Team of Realtors ® must have your confidence and trust which creates the highest form of fiduciary relationship. Selection should not be based solely on your bottom line. Even though your bottom line is one of the most important aspects of the relationship, it is prudent to be cautious with persons requesting "up front" fees. Most Realtors ® derive their income through commissions, and doing their absolute best for you, insures their commissions and future referrals.
We hope you enjoy the convenience of reviewing our listing presentation on-line.
As your selling agent we fully understand the motivations and strategies of other buyers and agents. and who do not represent you.
Our goal is to provide our clients with the knowledge to understand pricing and the sales process and procedures. This approach shifts the leverage in our favor and outlines a clear strategy in dealing with all potential buyers/ buyers agents. Our goal is to sell your home in the fastest most profitable manner, and to exceed your service expectations.
The following services we provided to you as a client, include but are not limited to the following:
1. We will carefully listen to your needs, and expectations for the sale of your home or property.
2. We will provide you with current, extensive research on market values, conditions, and trends that may affect the sale of your home or property.
3.We will provide instant, extensive Internet exposure (Vincent Paige advertises on over 300+ linked web sites. We utilize MLS & IDX (Many smaller companies only belong to 1 of these not both), Digital photo tours on line, an information box with information sheets, a secure, traceable Lock-box system, and the highly marketable Coldwell Banker Realty signage.
4. We schedule and coordinate all negotiations, inspections, surveys, showings, feedback, mortgage qualification verification, communicate and cooperate with all other professional agents and customers as needed.
5. We always place our "CLIENT" above the "COMMISSION". The commission will follow if the latter is taken care of appropriately.
7-Step Marketing Plan
1. APPROPRIATELY PRICE THE HOME:
The most important piece of the puzzle. Competitively pricing your home will attract the largest potential pool of buyers. This critical piece will be discussed at our first meeting. We are not interested in "making a quick buck" or "giving your home away."
* If your property is priced appropriately, more buyers will be interested when your property first hits the market.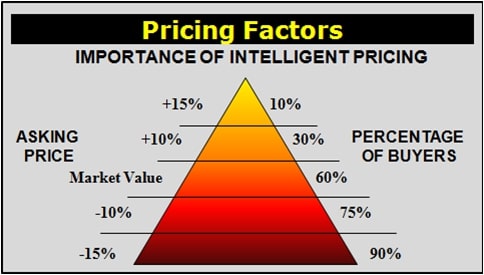 If your home has been on the market for several months, it may be a clear message that the property may not be worth what you're asking for it. This is particularly true if there haven't been many prospects coming to see it. What you do at that point depends on whether you really need to sell, and whether you're working with a specific time limit.
If you're not really motivated to move soon, you can always wait – years if necessary – and hope inflation will catch up with the price you want. The problem is that in that time, your home begins to feel shopworn. Buyers become suspicious of a house that's been for sale for an extended period of time.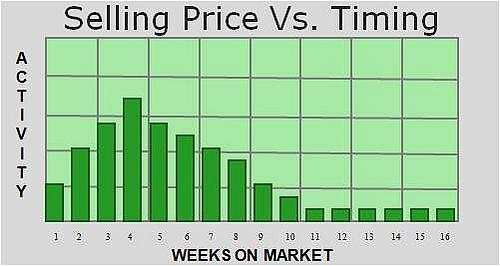 * Mortgages are based on "fair market value" not the sale price. More buyers will be able to consider your property when it is priced competitively.
The longer it sits on market, it will get less attention from potential buyers, and the sales "energy" and momentum will slow to a grind.
*If a property is overpriced it will set on the market indefinitely.
****If a property fails to appraise at "fair market value" according to the bank, then one of three things will happen:
– It will either force the buyer to make up the difference in cash (not likely to happen).
– It will force the seller to lower the price to the appraised "fair market value" anyway, and will possibly delay the sale of the property.
– It will ultimately cause the sale of the property to fall through
2. HOME PREPARATION:
Someone from the team will go through your house with you, and possibly make recommendations on how you could make your home more attractive to prospective buyers. A secure, monitored lock-box should be placed with the residence, to allow professional agents to gain access to view and show the property.
3. MARKETING:
*Our agents will immediately install an eye-catching Coldwell Banker sign (or company appropriate) sign on your property when allowed. It should be on front of property with initial information sheets. An ample supply of color Internet brochures should be kept in the house.
*Your home will immediately be listed in both multiple listing services (MLS and IDX) and have their own public web sites and affiliates with in 24 hours. (Most agents only use MLS!) This extra step gives your property exposure on over 50,000 agent web sites! Vincent Paige team also advertises on over 30 web domain names with appropriate links with a high ranking in the major search engines like Yahoo, Google, MSN, AOL and more.
Over 80% of the properties sold are found on the Internet!!
Ask yourself, I probably want to use an agent that has a full grasp of all the tools available to them, to get the highest and best price for my home in the quickest amount of time, don't I? How many sites does your potential agent use? These are a fraction of the 250+ sites we will use to advertise your property!!

We advertise almost everywhere!!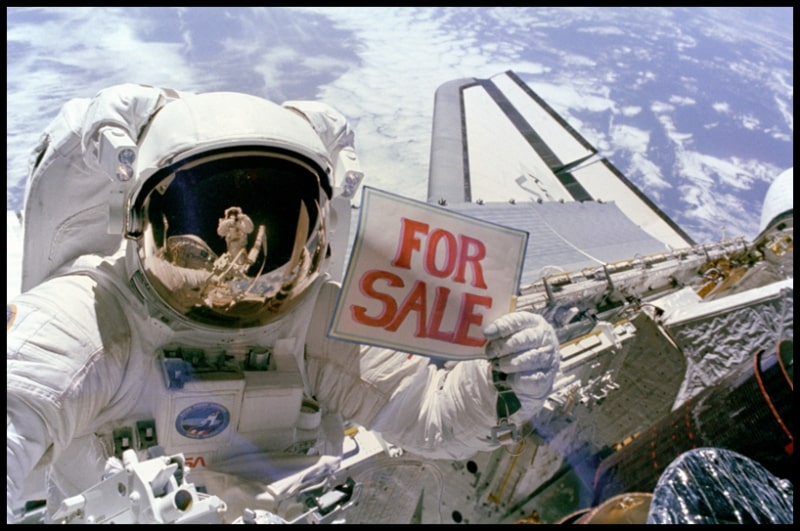 4. SHOWINGS:
We will show your property to all prospective, "Qualified" buyers not represented by an agent. (We would also refer all prospective buyers to a trusted network of lenders of competent, ethical lender/mortgage brokers.)
5. EDUCATION:
WE will provide assistance, guidance, counseling throughout entire marketing, negotiating, and closing of property.
6. SCHEDULING:
We will facilitate scheduling, and coordination of all closing activities/inspections/appraisals.
7. ACCOUNTABILITY:
Your agent should provide weekly lock-box readout with follow-up feedback information including showings and internet page views.
The Premium Properties® team does not ask for up front Marketing Fees unless the client requests unusual or extravagant marketing strategies outside the realm of our basic high quality marketing already in place as above.
The Premium Properties® strives to maintain a program unmatched by the majority of real estate companies and in doing so "invests" time, money, supplies, expertise in providing a service that will result in a positive outcome for you. We only get paid if we get results for you.
Thank you for your time. The on-line delivery on the listing presentation is new and is designed to save you time in selection of your listing company. Hopefully you found this informative.
Thank you for your valuable time, we hope to hear from you today.
Highest and best regards,
Vincent Paige, P.A. | Broker-Associate
REALTOR® | GRI, ABR, BPOR, MFS, e-PRO®, CLHMS
LTC, U.S. Army (Res.)
7626 W Sand Lake Road, Orlando FL 32819
Mobile: 407.256.8190 E-mail: vpaige007@gmail.com
Search for homes here: http://www.luxuryinorlando.com
Click to Contact
The Basics of Marketing Your Home
Our marketing efforts and considerations will include advertising, showing the property, how long the house has been on the market and whether you're buying another home. Your home should be listed, whenever possible, through a Multiple Listing Service (MLS).
Advertising and Promotion
Properties are commonly advertised through real estate agent Web sites, Internet home search/listing services, classified advertising and real estate guides. Promotion efforts through office and MLS tours are a good way of getting other buyer agents to view your home and to promote it to the buyers they are working with.
Even with all these advertising avenues, " For Sale" signs on front lawns are still remarkably effective. Many REALTORS® promote their Web sites on the sign and use brochure boxes with the signs to market the property. When appropriate, and with your permission, as your REALTOR® we may send a mailing about your property to neighbors. Sometimes one of them has a friend or relative who always wanted to live near them. You never know how far reaching the benefits of word-of-mouth advertising by friends, relatives and neighbors can be.
Showings and Open Houses
To prepare your home for viewing, make it as bright, clean, cheerful and serene as possible. Always look at your home from the buyer's point of view. As your REALTOR®, we will probably find a tactful way to suggest that you be absent while the house is being shown to prospective buyers, because your presence will inhibit their actions and conversations. They won't feel free to open closets and cabinets, test out the plumbing and discuss their observations objectively as they walk through the house. It goes without saying that your children and pets should not be on the premises either.
If we act as your REALTOR® when scheduling an open house, we would notify the neighbors, and assure them that they'll be welcome. They'll jump at the chance to poke around in your house, and sometimes they can turn up a buyer among their friends.
How Long Has Your House Been on the Market?
Professional appraisers sum up their entire body of knowledge in three words: " Buyers make value." Your home is worth as much as a buyer will pay for it.
* Timing is extremely important in the real estate market.
* The most activity from the real estate community and potential buyers happens when a property is first listed.
* A home has the greatest opportunity to sell when it is new on the
market and this is why it is critical not to overprice it!!
---
Pricing your Home Appropriately
If your home has been on the market for months, it's a clear message that the property may not be worth what you're asking for it. This is particularly true if there haven't been many prospects coming to see it. What you do at that point depends on whether you really need to sell, and whether you're working with a time limit.
If you're not really motivated to move soon, you can always wait – years if necessary – and hope inflation will catch up with the price you want. The problem is that in that time, your home begins to feel shopworn. Buyers become suspicious of a house that's been for sale for a long time.
If you really do need to sell, with us as your REALTOR®, we will discuss a reasonable schedule for gradually dropping your price until you find a level that attracts buyers. There's no point in saying, " We simply can't sell our house." Anything will sell if the price is right.
As the triangle graph illustrates, more buyers purchase their properties at market value than above market value. If you price your property at market value, you are exposing it to a much greater percentage of prospective buyers and you are increasing your opportunity for a sale.
How Do I Figure Out a Fair Price for My Home?
We will prepare a Comparative Market Analysis (CMA) for your Home. A comparative market analysis provides the background data on which to base your list-price decision. Prepared exclusively for you, this analysis contains a summary of the recent Real Estate transactions in your Subdivision or your Building for properties that are similar to yours. While none of the properties included in this Analysis are exactly like yours, they do provide a good basis by which to compare your property with the "competition".
The CMA also contains documentation of each property, whether it is currently available for sale, recently sold, pending sale, or was listed but did not sale (expired). A short description of each property is provided, followed by a summary table of each property's key features, which allows you to compare the features of your property with others in your area. Your home may have special features or improvements that could affect the price range in which it should be listed. Also included in the CMA is a "Net Sheet" that itemizes typical selling costs and the estimated "Net Cash" to be expected from the sale of the home.
Click to Contact